ORDERING PRINT HAS NEVER BEEN EASIER!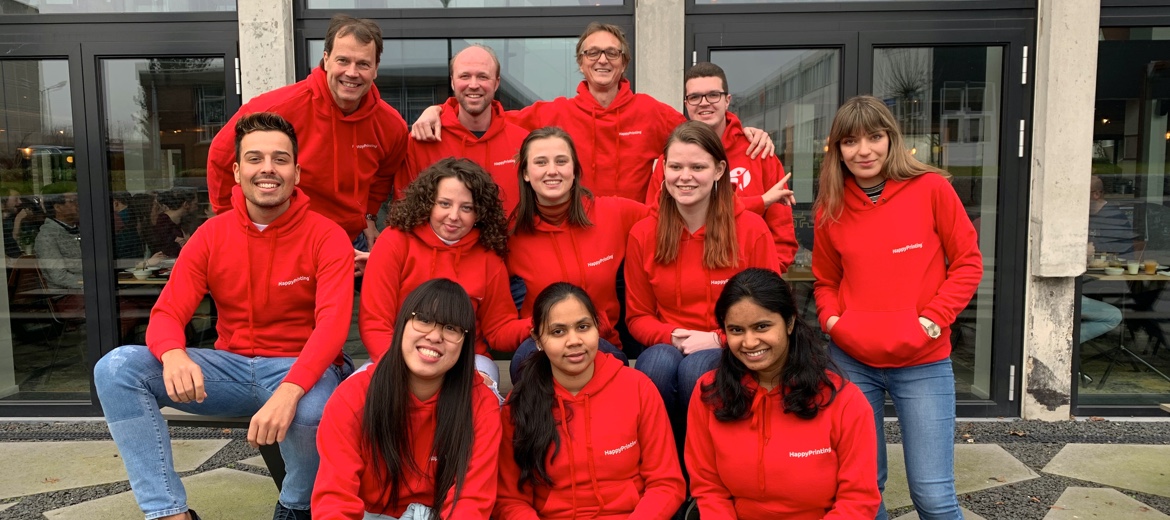 We love print
HappyPrinting was founded in 2018 with the vision that ordering print will increasingly take place via the internet. We created a user-friendly online printing platform where you can order all your printed and promotional products online: get instant price information, upload your print files or create your designs online and order all your printed products in one shop.
Learn more
   

 

Lieke den Boer


I recently ordered clothes here for the start of my business, and I think the quality of the clothes is top notch! (...)
   

 

Katja Wang


I had a chance to do business with Happy Print under a very emergency situation. The response always is fast and professional. Very good communication (...)
   

 

Pim Dek


Really a top company! Our birth announcements ordered here, super well served by customer service and the tickets were delivered quickly when needed!
Welkom bij Happyprinting
We believe that ordering print must be a happy experience. Therefore we created an easy-to-use online printing platform, called HappyPrinting: we print, you smile! 
In our webshop you can order many personalised textiles products, such like personalised t-shirts, hoodies, polos and tote bags at low prices. We offer affordable t-shirts, hoodies and polos. In addition we also offer a broad portfolio of business print products, which includes business cards, flyers, folders, posters, roller banners and sticker labels. And when you are looking for a nice gift or a wall decoration you can choose any number of products, for example photo canvases, perspex prints, garden banners and photo magnets. All our product are produced in house to guarantee the highest quality and also fast delivery times.
Personalised Wall Art and Home Decor
Capture your favorite moments in time with Personalised Wall Art and Home Decor of HappyPrinting. Enjoy your memories of your wedding day, your favorite vacations, your children and your pets every day by turning your favorite photos into custom home decor items that perfectly fit into your living spaces. HappyPrinting has the perfect possibilities to compliment your home: for example Photo Tiles, Photo Canvas and Photo Acrylics. Personalised Wall Art and Home Decor is simply the best way to display the images that mean the most to you.
Unique Personalised Gifts
Treat your loved ones to something special with personalised gifts from HappyPrinting. By uploading your or their favorite photos you can create special photo products and photo gifts your friends and family will love. From Photo Magnets, T-shirts to Photo Tote Bags, the opportunities are endless when you create personalized gifts with HappyPrinting.
Personalised Clothing
Stand out with our personalized clothing and show your creatives to the world. Or express your team-spirit or company identity and create your own personalized clothing. HappyPrinting offers a broad range of apparel and textiles that you can tailor towards your design, from Personalized T-shirts, Hoodies, Sweaters and more textile items.
Business Print for Professionals
Professionals need professional bussiness stationery and convincing printed marketing materials. That's what we make for you, from promotional flyers, leaflets, posters and brochures to business cards, letterhead, compliment cards and envelopes. HappyPrinting offers you the printed products that you need to look good and promote your business.
Your partner for all your printing needs
We get excited for special projects and new challenges. So if you have a special request, please contact us and we will create a solution and a special quotation.